To learn about our 5 Packages please choice "Packages" from the above menu bar.  We offer 3 Shower packages and 2 full bathroom packages.
There are countless tub selections, but here is some information you may find helpful. There are a wide variety of bathtubs, made of various materials, the most popular materials are fiberglass, Vikrell, acrylic, and enamel coated (such as cast iron and Americast).
Bathtubs are available in almost every imaginable form. Fiberglass should be avoided, generally it is a material which is coated with a gel coat. This gel coating is susceptible to damage. NH Bath Builders strongly recommends that our customers avoid fiberglass tubs.
Vikrell is a very cost effective, durable material. However there is really only one choice for Vikrell tubs when it comes to tile applications: the Ensemble
Acrylic is an excellent choice for tubs with tile walls. The important thing about Acrylic tubs is to make sure you find a tub with an "integral tiling flange" This is not visible once the walls are tiled. The integral tile flange prevent water from seeping in behind the tub where the tub and tile meet.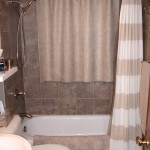 NH Bath Builders works with several local tile suppliers to offer you a wide array of tile choices from signature brands such as Dahl, Florida, Meditarranea and Anatolia Tile. Contact us to learn about where you can view selections.
NH Bath Builders will only install cast iron tubs when there is ample access to the bathroom and there are not any stairs to climb. For those situations where cast iron cannot be installed, Americast offers an excellent alternative. Pictured left is an Americast tub.
Sterling Tub/Showers:
Here are the Sterling Tub/Showers that we use in The Tub/Shower Replacement Package and The Bottomline Bathroom Package.