Welcome to NH Bath Builders!
Bathroom Remodeling Made Easier.
 Who is NH Bath Builders? We are a local New Hampshire family business serving NH families as trusted bathroom contractors with over 30 years of experience.
We have 5 great Bathroom Remodeling Packages. We can also customize design your next bathroom renovation to fit your needs.
Why cover or refinish? Replace it for less! We typically replace a tub/shower in just one day.
We would be happy to talk to you about your different tub, shower, toilet, sink, vanity and vanity top options. As well as your tile choices.
We really do try to make your bathroom renovation an easy and positive experience. Contact us for a free estimate.
Click on a package below for more info!
1-2 Day Tub or
Shower Replacement!
Cost: $2,900 (0r $2,500 with DIY option)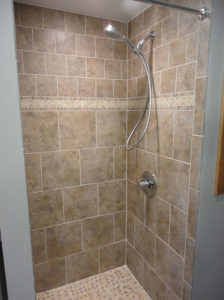 Add beautiful tile to your bathtub or shower with this package!
Cost: $7,200
A Great
And Affordable
Bathroom Remodel!
Cost: $9,900
The Swanstone Package

Top Quality Bathroom
at a Great Price!